In the world of Instagram, things are just absolutely incredible. More and more people are finding ways to use the real-time online mobile platform to create trends, re-invent their style and brand all the way to producing and then also broadcasting a new thriller in short 15 second episodes as in Shield 5. I'm completely enamored with how it's being used and seriously research and study new trends and ways companies as well as the regular Joe are reaching their followers on this platform daily.
Have a Voice? Instagram Can Be Integral
Okay, so we've established that I'm a fan. Let's really look at Instagram and I'll explain why. I actually love it and have finally developed a voice on the platform that I'm proud of with my personal profile of @BeingKristiChurch. Over the last 9 months my life has changed dramatically into fitness and eating healthy so I've been fortunate enough to have grown a following of over 1,000 people in a short amount of time. I found my voice and my audience. It takes a lot to narrow that down…and now I stick to posting on 3 or 4 different topics with one thing in common. Happy and healthy living.
If you have a mission or truly something to say that people can identify with, it can be an incredible tool. Instagram encourages organic and real-time sharing. It was made for you to stop and share exactly what you're doing at the time. In addition, the use of hashtags has also developed in helping tell and share your story.
One of my favorite hashtags is #FromWhereIStand. Every now and then I'll grab whoever I'm with and we'll all put our feet into the frame of my cell phone and I'll capture a pic of where we are in real-time. The cool part is that you can geotag that to exactly where you are at that moment, connecting space and time in a way that it gets logged into the Instagram book of time – forever. How cool is that?
Instagram; Not So Easy For Professional Marketers
Here at Infinite Reach, we work hard to include every important social platform we can for our clients to help their followers connect in ways that previously, hasn't been available. If you're reading this and wondering why you should hire a social media marketing company to handle your social platforms, our very own Kellie Meisenheimer explains perfectly in this article.
Top of the mind awareness is difficult to achieve these days, especially now that we live in the world of selective consumption. Everyone has a choice as to how they're reached and what messages they receive during their day; unlike the tactics of first generation marketing where messages were flying at you in all directions and places 24/7 – 365 days of the year. They were intrusive to say the least.
The one issue for marketers is that Instagram has always been difficult to manage electronically. Being that it was designed to be in-the-moment it doesn't allow for marketing teams to easily plan ahead and include this platform in the marketing plans of their clients, without a lot of extra effort.
For starters, Instagram can only be managed on a mobile device. Okay, let me digress. You can use Instagram on a computer however, what you can do isn't as important as what you can't do.
You can't post an update unless you are on a mobile device. Once you go log in to your Instagram account on your computer device, you can like and comment on other posts, but if you want to actually create an Instagram post you need to move away from your laptop or desktop and use the Instagram app on your mobile device in order to do so.
Dashboard scheduling tools such as HootSuite are popular for marketing teams as they allow for multiple client and platform management. All the major social platforms can be managed via Hootsuite and up until recently, Instagram wasn't one of them. Still, as of last fall when IG joined the Hootsuite bandwagon it did so with limitations.
With Hootsuite, it's a known fact that it's a helpful tool to schedule posts that will roll on your terms while focusing on the main goals of your campaign. With the IG – Hootsuite integration, Instagram still has control over the fact that their main mission is intact – they are a real-time online mobile platform. They've been able to stay true to their own mission and still allow marketers a way to use the tool. It's a win-win, right? Not quite. Posting to Instagram through the dashboard is still time consuming and takes extra effort. It's not perfect.
Here's a quick tutorial from Hootsuite on how to add the platform to your dashboard and schedule posts.

To make matters even more difficult, in order to manage an Instagram client account, one would have to log out of their own Instagram account and log back in each time they would want to publish a post. Big pain in the back-side! This was a frustrating piece of using the tool that I just had to accept. Not everything is perfect in relationships and sometimes you just have to take the good with the bad. It can be love-hate. A push-pull, if you will.. or in this case a ying and yang… and I've made peace with it.
Instagram Announces Account Switching! Ahhh….Thank you, Instagram!
However –Instagram's recent announcement just took a little bit of the sting out of this bittersweet relationship we have. As professional marketers, we received excellent news last week that Instagram has finally released the much anticipated Account Switching tool! Yes!! Thank you so much Instagram!! You just keep getting better and better!
One can quickly and easily switch between multiple accounts on Instagram now… which is one step closer to helping marketers do their jobs more effectively. Here's the step by step in how to set that up!
The following is adapted from a post published on February 9th, 2016 by Nicole Cozma of CNET.com
Step 1: Head to your profile in the app to access the Settings menu in the top right corner.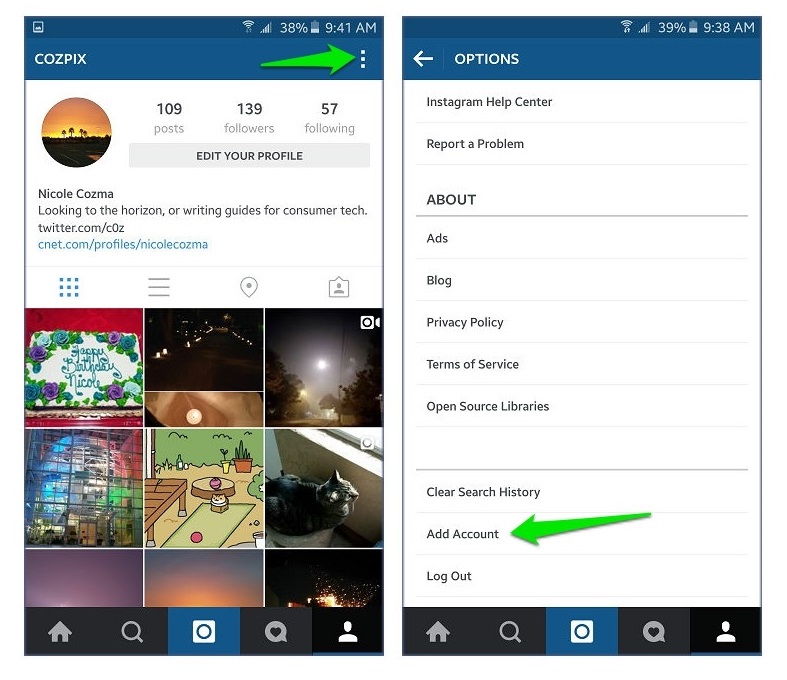 Step 2: Scroll down to the very bottom of the menu to reveal the Add account option. Tap and enter your details to log in to another Instagram account.
Step 3: You can switch between accounts by tapping your username at the top of the app. Another account (up to five total) can be added through the username menu, as well.
As for push notifications, they will work for all accounts that have them enabled, according to Instagram.
Should you need to log out of any account you've added to the app, simply pick it from the username menu, then head to the Settings area through your profile. There be a log-out option for the current account near the bottom of the list.
The fact is though; you'll always need your mobile device in order to post on behalf of a client as that is the core of what Instagram is all about. It takes a little practice to get used to, however after you get going a bit, you'll see that all the hard work is worth it, especially if you've established a great Instagram voice. That's #instagood!
http://infinitereachagency.com/wp-content/uploads/2016/02/instagram1.jpg
341
341
Kristi Church
http://infinitereachagency.com/wp-content/uploads/2015/07/IR-Strip-smaller-500.jpg
Kristi Church
2016-02-15 16:30:42
2016-02-16 13:06:54
Instagram; It Keeps Getting Better and Better