With Facebook announcing its Q4 2014 results in just a few short weeks, here's look at why this media giant will remain the powerhouse in 2015 when it comes to social media.
Facebook is Effective at Building Trust
I remember the day it happened. I'm almost ashamed to admit that I was among them. As we all sat around our computers, Facebook users squawked as soon as paid ads hit their feeds at the beginning of 2012. With that said, paid ads have been extremely successful resulting thousands of dollars of revenue gains since they've hit the scene. However, brand awareness and trust has been built on the platform with big companies growing their audiences and being more relevant than ever. In a study produced by Simply Measured of top 100 companies, there were a collective 1.1 billion fans and 77 percent of those companies and individual audiences of greater than one million fans."
Fast forward to 2015 and Facebook fans are now accustomed to viewing branded content more than ever. Take that one step further. They're proven to become more trusting to those large brands by becoming fans themselves in support of the brands they follow.
Those ads weren't such a bad thing after all!
Larger Fan Base = User Recommendations
For companies, brand loyalty is the result of all that good trust juju that's being built everyday on Facebook and other social media. It's no secret that people want to connect to the companies and public figures they love by understanding them socially and emotionally. It's as close to being personal with them as they can get by easily connecting at no cost—a huge benefit on both sides!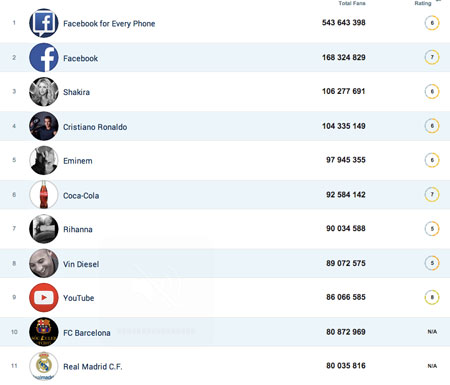 However, this kind of brand loyalty and growing fan base also translates into user recommendations. Think of this as the digital word-of-mouth if you will. As of January 2, 2015, aside from Facebook itself, Coca-Cola and YouTube round out the Top 25 Facebook Pages for highest number of fans. On the far right of this chart you'll see a 1-10 rating on how likely a fan is to recommend the page to friends. More raving fans translates into more engagement and more of a following. Woot! So.. there's no time like the present to grow your Facebook fans!
Facebook Balances Brands and What Traditional Users Want to See
Facebook relies on users and their engagement to grow their financials. So, posts that are more engaging are the posts that Facebook juices in order to drive that engagement. One thing that Facebook is great at is listening to its audience. While there's brand loyalty and fan base growth on Facebook, this came loud and clear in a recent Facebook survey that users don't want to see their newsfeed spammed with sales pitches.
So Facebook is adapting. Yes, again. It's good news for users, and not so great for marketers. New 2015 algorithm updates reflect different outcomes for brands as engagement remains their focus. What this means for branding is that there will be even less visibility to those posts that solely push people to enter promotions, to buy a product, enter promotions and or sweepstakes or reuse of existing content from ads. Posts with a hard sell take the back seat! (See example below).
How they're accomplishing this is that Facebook is simply lessening the competition in the News Feed so that more relevant content gets seen. According to a recent blog post, Facebook remarked "This change is about giving people the best Facebook experience possible and being responsive to what they've told us". Kuddos to you for listening, Facebook!
Facebook Continues to Develop What Page Admins Want
Part of this new January 2015 Facebook update, businesses that have Places Facebook Pages, which simply means having a brick and mortar location, admins are becoming a bit happier! They can now toot their horns a little louder by adding maps, ratings and check-ins to their page. This awesome update gives users more assurance about local brands/businesses they follow while also upping their street cred!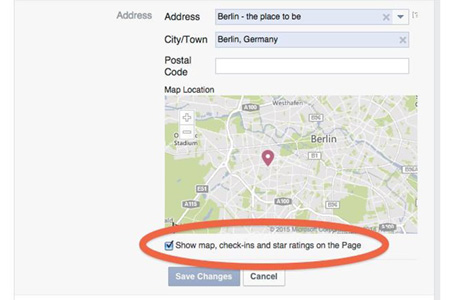 No matter what kind of changes that Facebook is going to make, businesses everywhere are going to stay the course, post their content and pay for ads to be in front of their audiences. They key is going to be relevancy with a focus on giving your audiences the info they want without being perceived as giant spam machine. So.. quit spewing mindless content so Facebook AND your users will love you! Their loyalty will be proven in your  Facebook "Likes".
About Us: Infinite Reach Agency specializes in advanced Facebook marketing through ad placement and daily social engagement. If you have questions on this topic or have questions on how to implement a proper Facebook ad campaign, contact us for a complimentary 30 minute consultation! We're happy to help!
http://infinitereachagency.com/wp-content/uploads/2015/01/i_love_fb.jpg
341
341
Kristi Church
http://infinitereachagency.com/wp-content/uploads/2015/07/IR-Strip-smaller-500.jpg
Kristi Church
2015-01-07 16:30:45
2015-01-07 18:17:03
4 Reasons Facebook Will Remain a Social Powerhouse in 2015