Facebook. One of my favorite subjects. It's not my end all marketing tool, but it is a part of a larger strategy that I use within my plan. Like most marketers and people I know, Facebook and I have a love-hate relationship. Some days I absolutely love it…other days I want to bang my head on my keyboard hoping to knock some sense into my brain. The chase is on to find the golden key to unlock the right engagement for best results and just when we think we've got it, Facebook ups their game to have us all scrambling again.
There is one thing I absolutely love about Facebook. They are constantly working to strike a balance between keeping their users happy (both social and professional) while increasing their bottom line. Every time they come up with something that might affect marketers in a less than desirable way…(poof!)…they pop out a new feature that gets us all excited again!
For instance…organic reach. In what seems like a strategic 2 year plan on their part, Facebook primed us for the days ahead starting in 2012 when they first announced the paid reach concept. Chatter struck up in forums of how evil Facebook was for starting to charge—and we read conversations for and against it on both sides of the fence—at the end of the day, people were upset that they might have to pay in order to use what they want as a free service.
I get it. I want free too. But truly, nothing in this world is really free. Eventually we're going to have to pay for what we want and frankly, I'm thankful that Facebook hasn't adopted other means for making us pay such as going to a monthly subscription rate. While the negative effects for them would have been drastic and huge, they surely could have done that. Rather, they took cues from Google (okay, maybe not…which was first the chicken or the egg?) and developed changes through their algorithms that keep us hopping.
Similar to that of search engine optimization; starting your business, getting your website up and running and clicking on your neon open sign certainly doesn't mean you'll get found on the internet. You need SEO to be found. That may also include SEM (search engine marketing), or Pay per Click ads for a little boost. Over the past five years we've come to understand that marketing has changed, especially if we want to gain top-of-the-mind awareness.
One thing is certain, Facebook is always changing…..
I'll touch on some old news for a moment. They have created algorithms that, with their announcement last November, are quickly moving away from organic reach to encourage more paid advertising, which makes it more difficult for us to reach our audience. We knew it was coming so it wasn't really a surprise. In fact, I really started noticing the effects of this change in mid-January. Again, just because we have followers and are active at posting great content…in most cases you'll need to be on the pay to play bandwagon to have your posts seen by those that like your page and want to support your business. Early adopters are embracing the change, others aren't there yet. The key is to develop a boosting strategy for posts that you want to have covered. It should become part of your Facebook marketing plan.
Facebook saves the day!
Here's a positive development to off-set that announcement. Facebook has given us a new way to engage those that follow us with the new Call-to-Action (CTA) button! Yes, I am enamored with how Facebook is going to allow us to drive traffic to a landing page so that we can convert more potential clients and creatively use this platform to grow our own bottom line as well! Could the new Call-to-Action button become the kryptonite in our tool box that helps us gain more qualified engagement? The answer is YES! Especially when used as part of a strategic ad campaign!  
I mentioned in a recent blog post the "4 Reasons Facebook Will Remain a Social Powerhouse in 2015", that Facebook is great at building trust, but they're also great at continuing to develop what page admins want. In fact, they want "to release features that will help drive business objectives to align with a business's goals". The new Call-to-Action button is a perfect example of that! Woot! Woot!
Here's how it works: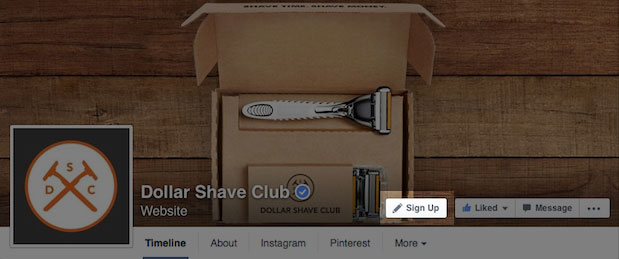 Next to the "Like" button at the top of your Facebook page sits the Create a Call-to-Action. You can see in the example below that Sign Up is one of 7 different Call-to-Action buttons that are available. This makes it possible to set up your CTA to work congruently with another campaign to help drive clicks where you want them.
Take for example this 3 week test performed by Brian Kim from the famous online retailer Dollar Shave Club. "The Sign Up Call-to-Action delivered a 2.5x higher conversion rate versus other comparable social placements aimed to drive new user acquisition." That's great news! Personally and professionally I'm encouraged and I can't wait to do some testing of my own in the near future!
So.. the 7 options for your CTA are:
Sign Up
Book Now
Contact Us
Use App
Play Game
Show Now
Watch Video
All great options when combining an ad campaign to drive engagement or even as a stand-alone way to promote your business page. The new Call-to-Action button is rolling out to Pages now through the end of 2015.
So as we are all excited and wrapped up in creating our new CTA, let's try not forget the fact that if we want more than mere 5 followers to see our posts, we still have to pay for that coverage. At least until we pay our ad bill…ouch!
About Us: In addition to our other services, Infinite Reach Agency specializes in advanced Facebook marketing through ad placement and daily social engagement. If you have questions on this topic or have questions on how to implement a proper Facebook ad campaign, contact us for a complimentary 30 minute consultation! We're happy to help!
http://infinitereachagency.com/wp-content/uploads/2015/02/facebook-new-call-to-action-smv1.jpg
359
300
Kristi Church
http://infinitereachagency.com/wp-content/uploads/2015/07/IR-Strip-smaller-500.jpg
Kristi Church
2015-02-03 11:44:56
2015-02-03 11:44:56
New Facebook Feature Is Kryptonite Against Change