If you're not addicted to checking your Instagram feed at least five times a day, you probably know a few people who are. Instagram is quickly becoming the most popular social media app – not only for its ability to share photos, but because it's become more of a network. It's great for new membership growth, for social sharing, for ad sales, for engagement and so much more.
This social media app was launched in 2010. Look how far it has come in just six years:
Instagram is growing 5X faster than social media in general.
Earlier this year, they announced the user community reached more than 500 million users.
More than 300 million people use Instagram every day.
80 million photos and videos are shared daily. (Insane!)
According to eMarketer research, 51.8% of social network users will use Instagram by 2017. (Which is not too far off from right now. I can't believe it's already September!)
Instagram For Business
"Instagram lets you bring your business to life on mobile. And now, Business Tools give you the ability to stand out, learn more about your followers and reach more customers on Instagram."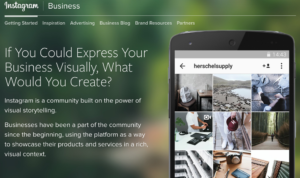 This social networking site is a place to share photos and videos with friends and family, but also where businesses can grow and thrive. If you're trying to raise awareness of your business, get people to your website or store, or even sell more products, this is the place to go.
Selling
If you've been a true Insta fan since day one like myself, you'd know that there are way more ads than there used to be. Through endless scrolling of the app on my phone, I've noticed myself stopping a lot more times just to see what exactly the "Sponsored" ad is this time that's interrupting my scroll. This is because the network opened their ad platform to many Facebook Marketing Partners, such as Hootsuite and Kenshoo.
Through the new providers, marketers and brands, both big and small, are able to buy ads and start reaching out to Instagram users via ad content. Now that there's a massive audience on this social network alone, there's money to be made. After Instagram made this announcement, brands quickly discovered its selling power – especially eCommerce companies, more specifically those who target millennials.
"Electronic commerce or Ecommerce is a term for any type of business, or commercial transaction, that involves the transfer of information across the Internet" (Source). Instagram's engaged audience is ideal for Ecommerce because you can directly market something to them by placing something visually striking in front of a person's very eyes.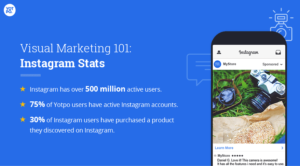 Once you see the "Sponsored" ad, you also see call to action buttons such as "Shop Now," "Install Now," "Sign Up," and "Learn More." This explains why, according to Yotpo.com, 30% of Instagram users have purchased products discovered on Instagram. Ads seem to be really working!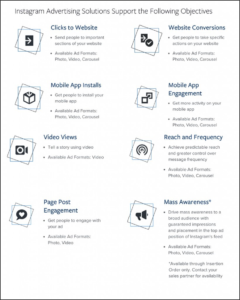 You Can Now Zoom
Instagram has taken a step towards fixing its photo and video size problem by installing a new feature – pinch-to-zoom. This allows people to finally take closer look at the images and videos that their followers post on this social media site. This small addition was something the world has been asking for for months! It truly does keep getting better.
Personally, Insta is my go-to app when I need my social media fix. It's fun, interactive and let's you be completely creative. For years it's been making their users happy, and now, consumer brands happy as well. Take advantage of all this app/site has to offer.
How do you use Instagram? Whether it's for personal use or for your business, I'd love to read about it in the comments!
http://infinitereachagency.com/wp-content/uploads/2016/09/insta-blog.jpg
341
341
Janelle Nodar
http://infinitereachagency.com/wp-content/uploads/2015/07/IR-Strip-smaller-500.jpg
Janelle Nodar
2016-09-14 11:00:02
2016-09-01 17:49:53
Instagram Is Taking Over Social Media - Do You Agree?