People love a good story, and especially a good origin story. It's a form that has persisted in many cultures for centuries, from the Book of Genesis right up to the latest film to reboot a superhero franchise. The popularity of this form is something you—and your business—can harness in several ways to help both you and your clients.
Why You Should Tell Your Story
Every company has one: a spark, a handshake, a moment when the idea became a reality. Some, like the building of the first Apple computer in Steve Wozniak's garage, or Facebook's Mark Zuckerberg hacking the Harvard network, are well documented, even in feature films. Others—like these 10 outlined by Forbes—might be stranger than you think. The appeal of the origin story has even prompted some companies to fabricate an interesting anecdote as a PR strategy. We don't recommend this course, obviously, but it just goes to show the power of a well-told narrative.
Your company origin story:
Highlights some if your company's unique traits
Lends a personal touch to your webpage and other content
Conveys your company values and how they've evolved from your history
Is a key part of your brand guideline, as we've written about in this post
Helps you stand out from competitors
Entertains as well as informs
Provides a break from other, the more sales-focused content, AND
Gives the readers, your potential clients, a chance to get to know your business and insert themselves into your story
How to Tell Your Story
We've established that telling your origin story is vital for your company, but telling it well is just as important. A poorly told story could confuse readers or convey the wrong messages about your business, both things you want to avoid when attracting customers! These tips will give you some guidelines when adding this vital aspect to your brand.
Keep it Simple
As Lewis Carroll wrote, "Begin at the beginning, and go on till you come to the end: then stop." Nobody wants to read a complex tale that involves extraneous details, overlong explanations or lots of jumping around. Only include the aspects relevant to your business. If you run an Italian restaurant based on the cooking your great-grandparents brought to America, some background on them is great, but a whole family tree might be unnecessary. If you founded a tech startup, your early days tinkering in the garage can be interesting, but a full list of your science fair projects is too much.
Make it Stand Out
Something you may not have considered is keeping your origin story in its own special place on your website. This can mean a subsection of your "About" page, or front and center if the page is all-in-one. You'll notice that at Infinite Reach, we keep our "About Us" separate from our "Services" page, in order to highlight the difference. Readers want to know what you do, but they also want to know who you are. Keeping your origin story distinct from the description of your business ensures this invaluable part of your company identity isn't lost on potential clients.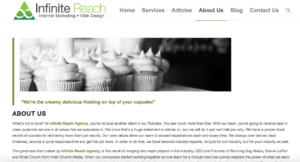 Cover the Basics
In this article, tech.co outlines a few questions to ask yourself when considering your story and how to tell it. They include: Who are you? Why did you start this business? And, How do you do [what you do] differently than others? These questions form a helpful guide that will ensure readers of your story will get the full picture of your company's background and unique traits.
Speaking of Pictures, Use Them!
More and more, integrating visual aspects to any marketing strategy is becoming essential, and the origin story is no different. The images are a great way to show the human face of your business, especially its humble beginnings. Share a photo of the ribbon-cutting at your first location, the prototype of your first product, or the employee's dog that became your unofficial mascot. The personal aspect and values of your company will come across in these images.
Better yet, try video! A short clip of your company's founders discussing how their passion grew into the current business is a dynamic way to get the story across. In this article, Steve Jurveston (the venture capitalist behind Hotmail and Tesla Motors, among others) says he always films early meetings with company founders when considering investments, knowing the value of someone's vision as told in their own words.
Keep it Going
Your story is never finished—it's constantly evolving. Update the page with any progress you've made, use recent images to show how you've grown from the beginning, and emphasize a look toward the future. Your story is a great way to invite potential clients and customers to join you in the next chapter.
http://infinitereachagency.com/wp-content/uploads/2016/09/infinite-reah-company-origin-story-sprouts.jpeg
3200
4800
Michael Cohen
http://infinitereachagency.com/wp-content/uploads/2015/07/IR-Strip-smaller-500.jpg
Michael Cohen
2016-09-13 12:45:20
2016-09-13 15:01:20
How to Tell Your Company's Origin Story, and Why